200 years later, we're still pondering Mendelssohn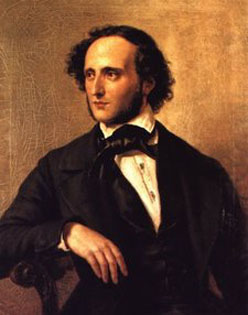 This year marks 200 years since the birth of Mendelssohn. As with Mozart's 250th Birthday a few years ago, numerous organizations are performing Mendelssohn's works and scholars are digging to the past to see if we can come up with something new, something we didn't know before.
The Independent ran a length article on Monday detailing Mendelssohn potential relationship with Swedish soprano Jenny Lind. It goes on to suggest there may have been a letter from Mendelssohn threatening suicide if Lind didn't accept his ovations of love and run away with him. A few months later he was dead.
Certainly his music is passionate. His music, although not as popular in concerts as some of his contemporaries, Chopin, Brahms or Schubert, in many respects (and certainly in the UK) his music is fairly universally enjoyed when it is performed. There is a joyful quality to it, even when pieces like "The Hebrides" have dark elements and his "Elijah" has subtle nuances that shadow even the most uplifting moments. Maybe this new insight into his character will give us new perspective to his music. And maybe this flurry of concerts will give us a chance to re-think the effect his music has on our own emotions.
Upcoming Mendelssohn Concerts: Museum Of Jewish Heritage will host the the Shanghai Quartet on January 28 with with a performance of unknown chamber masterpieces in Mendelssohn: Lost Treasures of the Wagner Suppression. National Chamber Ensemble Celebrates Mendelssohn Bicentennial with a concert on January 25th. Scottish Chamber Orchestra performing an entire season of Mendelssohn concerts. London Mozart Players performing concerts marking the bicentenary to be held on January 17, February 21, March 18 and April 25.
If you know of more celebrations of Mendelssohn's music, please let me know so I can post updates.