New Opera: Dust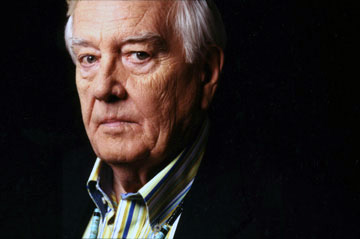 Robert Ashley (pictured) has written a trio of operas, "Dust" (1998) "Celestial Excursions" (2003) and "Made Out of Concrete" (2007/9). These operas are going to be performed at La Mama E.T.C. in New York this January. Dust is described by Mr. Ashley as "a television opera for the stage." Its inspiration is the rambling of homeless people in New York City, and it is set in an imaginary park. The performers include Mr. Ashley, Joan La Barbara, Thomas Buckner, Jacqueline Humbert and Sam Ashley, in vocal roles, and (Blue) Gene Tyranny on keyboards.
"My characters are ordinary people," Ashley explains. "I am interested in their profoundly good qualities. They just happen to be ordinary people who are spiritually divine." To create this 'ordinary' effect, the vocals are rather like listening to Garrison Keillor's "Prairie Home Companion". The cadence is easy, speaking as much (if not more) than singing, relaxed and contemplative.
"We sense that great things—monumental things—are going on, of which the musical moments in the operas are but mere symptoms. The greatness is left inarticulate, merely sensed, slouching behind the sheer volume of the whole." — Murray Dineen, Opera Today
Other reviewers on Amazon said this:
Dust is called an opera, but it is worlds away from archaic plots and bel canto singing. Against a background of ambient electronic textures, Ashley and his ensemble sing-narrate their story in ordinary American speech without a trace of artifice.

As can be heard from the samples that Amazon has provided, this opera starts out as a running narrative with a hypnotic synthesizer backdrop -- gradually working up to a critical mass of discordance in "No Legs", then easing into a very melodic ending - the last 20 minutes are pure gold, and it's a shame that Amazon has chosen to not sample that part.
You can listen to selections from "Dust" on
Amazon
La Mama E.T.C. Annex, 74A East Fourth Street, East Village, (212) 475-7710, lamama.org; $25; $15 for students.