Update: "Leave Me Alone"
The iconic underground comic book author Harvey Pekar will make his operatic debut at the Oberlin Conservatory of Music in Leave Me Alone!, an autobiographical jazz opera. A collaboration by two Cleveland natives, the opera combines a libretto by Pekar with music by saxophonist and composer Dan Plonsey. Leave Me Alone! depicts the lives of its creators in quotidian detail while asking big questions about the place of cutting-edge art in our society. Amidst the demands and interruptions of day-to-day life, Pekar and Plonsey wonder, how can artists carve out time for their creative work? More importantly, they ask, how do we cultivate a society that is receptive to the avant-garde? The opera, which is presented by Oberlin in cooperation with Real Time Opera, will receive its world premiere in a free performance on Saturday, January 31, 2009, at 8 p.m. in Finney Chapel. The performance will also be streamed live to an international audience online at www.LeaveMeAloneOpera.com.
Finney Chapel is located at 90 N. Professor Street in Oberlin, Ohio, just 40 minutes southwest of Cleveland.
"There ought to be a place for cutting edge work," says Pekar, who believes that many major cultural institutions have shirked their responsibility to support contemporary art and challenge audiences. "I thought there wasn't much out there being said about this, and I wanted to open up some discussion."
Called "the blue-collar Mark Twain" by Variety, Pekar is best known for his autobiographical comic book series American Splendor, in which he elevated the mostly mundane details of his life as a working-class Clevelander to the level of art. The series won the American Book Award and a film adaptation took top honors at the Cannes and Sundance film festivals. Composer Plonsey, who was born and raised in Cleveland Heights, has been a lifelong proponent of new music, and has founded several new music series in and around his current home in El Cerrito, California. "The opera, simply put, is the non-fictional account of its own creation," says Plonsey. In the story, Pekar and Plonsey engage in discussions about music, the state of the avantgarde, and the creation of the opera itself from their Cleveland and San Francisco Bay Area living rooms. A taped conversation between Pekar and comics illustrator Robert Crumb provides an additional perspective on the opera's themes. The wives of Plonsey and Pekar, Mantra Ben-ya'akova Plonsey and Joyce Brabner (who portray themselves in the production), enter the plot, as does Josh Smith, the opera's music director. Oberlin Conservatory students will also be involved in the production; four singers will double the protagonists on stage and an ensemble of six jazz musicians will back them in the pit, playing alongside Plonsey and Smith.
Plonsey and Pekar are deeply committed to the notion that art transcends distinctions of class and hence ought to be available to all. Accordingly, both the live performance and the webcast of the opera will be offered free of charge. Those wishing to support the production may do so by purchasing a comic about the opera, written by Pekar and illustrated by Joseph Remnant, at www.LeaveMeAloneOpera.com.
About the Librettist: Harvey Pekar
Harvey Pekar, a native of Cleveland, Ohio, is best known for his autobiographical comic book series American Splendor. Pekar began self-publishing the series in 1976, at the urging of friend and noted illustrator Robert Crumb. Unique among comic books of the time, Pekar's stories documented the minutiae of his daily life: working as a file clerk in the VA hospital, grocery shopping, or simply searching for a lost set of keys. In 1987, Pekar was honored with the American Book Award for his work on the series, and in 2003 American Splendor was adapted as a movie to widespread critical acclaim. An avid record collector, Pekar began his writing career as a book and music critic, with a particular interest in jazz. His reviews have been published in the Boston Herald, the Austin Chronicle, Jazz Times, Urban Dialect (Cleveland), and Down Beat magazine. Pekar's commentary for public radio station WKSU, starting in 1999, won him several journalism awards, including the 2001 Regional Edward R. Murrow Award for Best Writing.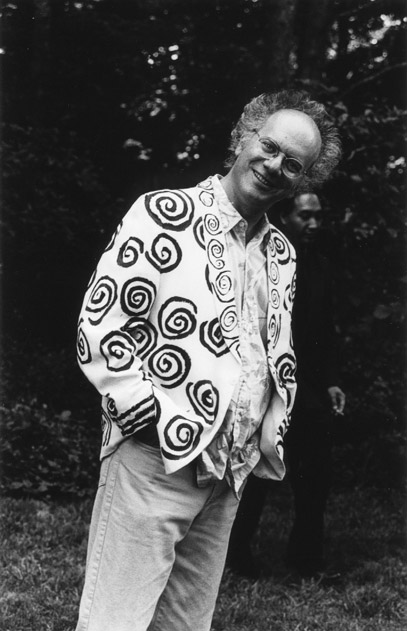 About the Composer: Dan Plonsey
Saxophonist and composer Dan Plonsey was born and raised in Cleveland, Ohio. Drawing inspiration from musicians as diverse as Sun Ra and Charles Ives, Plonsey's music defies easy categorization. "No doubt," writes All About Jazz, "Plonsey is a creative soul who possesses a Renaissance spirit." In recent years Plonsey's instrumental work has focused on large ensembles of mixed instrumentation and ensembles of multiple saxophones. His more than 200 works for large and small ensembles include commissions from Bang on a Can, the Berkeley Symphony, and New Music Works in Santa Cruz. He has written numerous operas, including three collaborations with Paul Schick of Real Time Opera. From 1994-99, he was the resident composer and chief librettist for Disaster Opera Theater in El Cerrito, California, where he currently lives. He also founded the weekly Beanbender's creative music concert series in Berkeley, which is ongoing on an occasional basis. Plonsey earned a Bachelor of Arts degree in math and music from Yale University and a Master of Arts degree in composition from Mills College.