Mitsuko Uchida takes on Ravel's Piano Concerto in G with NY Philharmonic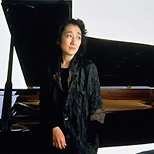 Riccardo Muti conducts the New York Philharmonic with pianist Mitsuko Uchida through a program of lush jazz and romance with Ravel's Piano Concerto in G and Schubert's Symphony No 9. Uchida, renowned for her interpretations of Mozart and Schubert, both in the concert hall and on CD, has also illuminated the music of Berg, Schönberg, Webern and Boulez for a new generation of listeners, and her recording of the Schönberg Piano Concerto with Pierre Boulez and the Cleveland Orchestra won four awards
"It is one thing to get all the notes right…it is another thing to play the thoughts within the notes, the light around them, the darkness behind them, the silence at the end of the phrase. That is what inspires awe." - The New Yorker
Ravel's Piano Concerto in G comes out of Paris in 1932, the height of Jazz craze. The influence of George Gershwin is evident. Both of Gershwin's pieces, Rhapsody in Blue (1924) and Piano Concerto in F (1925) showed the ability to take a jazz pianist and combine with a symphony orchestra and create something wholly new.
Maurice Ravel was interested in this new jazz music. When Gershwin requested composition lessons from Ravel, it was Ravel that felt he had something to learn from Gershwin. While the first and third movements typical of the jazz music from the 20's with elements of Mozart in the 2nd movement.
Schubert's Symphony No 9 is often considered Schubert's finest piece for orchestra. The Great C-Major Symphony is also one of the composer's most innovative pieces. Thematic development in the style of Beethoven is still present in the work, but Schubert puts far more emphasis on melody, which one might expect from the composer of some six hundred lieder. This new style prompted Schumann to pursue his own symphonic ambitions.
"Today I have been in seventh heaven. At the rehearsal they played a symphony by Franz Schubert. If only you had been there! For I cannot describe it to you; all the instruments were like human voices, and immensely full of life and wit, and the instrumentation, regardless of Beethoven—and the length, the divine length, like a four-volume novel…I was utterly happy, with nothing left to wish for except that you were my wife and I could write such symphonies myself…" - Robert Schumann's letter to his beloved fiancé Clara
Pre-Concert Talks an hour before each performance
Avery Fisher Hall
Wednesday, April 15, 2009 7:30PM
Thursday, April 16, 2009 7:30PM
Friday, April 17, 2009 11:00AM
Saturday, April 18, 2009 - SOLD OUT